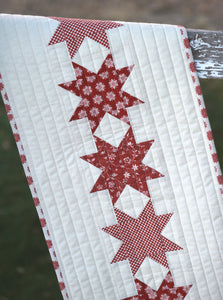 It's been awhile since I have made up a new tablerunner pattern and thought it was about time! I love the reds in the Fleur de Noel and since I love star blocks, it was the perfect combo! I was so excited about getting started and penciled out the measurements and went to cutting. The only problem is I didn't look at my notes while I was cutting and instead of cutting the size I needed, I cut all the little squares too small. So back to the cutting table...and the Halloween candy made an appearance even though I vowed...
---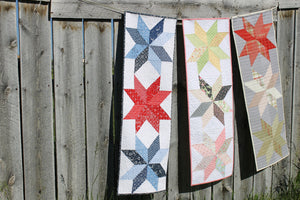 Soooooo, school is finally back in session and it seems like my sewing is finally back on track too. It's not that I wish the summers away because I only have 4 summers left before my oldest leaves for college and just 6 summers left before my youngest is gone. I just love Fall and cooler weather and NO BUGS. Taking the pictures of these tablerunners happened in July and even though you can't see them, mosquitoes were swarming! Hence...not many pictures! The tablerunner for today is called Country Stars.  It is super fast and easy to put together so...
---
• New Product • Quilt pattern • Quirky • Tablerunner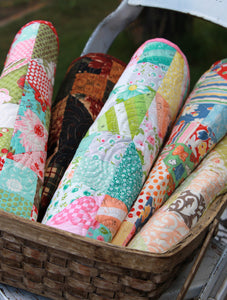 My plan was to have a new tablerunner pattern each Tuesday...and then life happened. Why do I always think that once summer hits, it'll be all easy peasy. No schedule, no early morning alarms! And then summer hits and kids are home all day, extra activities, extra meals, (which mean extra dishes) and craziness happens.  But I wouldn't give up these fun filled crazy summer days for anything, because I know all too soon, it will be over and I'll be longing for these days.  My tablerunner for this week is Quirky! I designed this quilt some time ago when I...