• New Product • Quilt pattern • Quirky • Tablerunner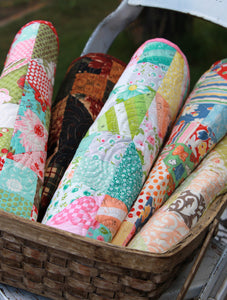 My plan was to have a new tablerunner pattern each Tuesday...and then life happened. Why do I always think that once summer hits, it'll be all easy peasy. No schedule, no early morning alarms! And then summer hits and kids are home all day, extra activities, extra meals, (which mean extra dishes) and craziness happens.  But I wouldn't give up these fun filled crazy summer days for anything, because I know all too soon, it will be over and I'll be longing for these days.  My tablerunner for this week is Quirky! I designed this quilt some time ago when I...
---
• Holidays in Patches • New Product • Quilt pattern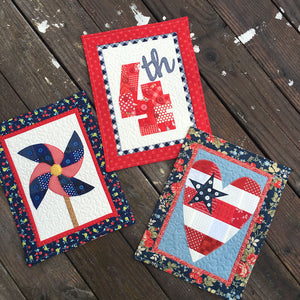 July 4th is one of my favorite holidays. I love all of the red, white, and blue. I love our flag proudly displayed every where. I love the backyard BBQ's. I love the fireworks. But most of all I love my country. One of my most favorite July 4th's was when I was at my Uncle and Aunt's home while my Uncle taught at the Air Force Academy. We walked down through one of their training courses and climbed up a rope ladder and got situated up on top.  Behind me was a sea of blue, young men and young...